Go on a byte-sized adventure with Lemonhunter. Find items and gold inside the procedurally generated caves. It's up to you to decide if you want to fight the monsters, or avoid them. If you're lucky you might find the golden lemon of your dreams at the end. Only have a couple minutes left in your break? Don't worry, speedrunners will be rewarded with extra points!
Controls
Arrows - Movement, push crates, climb ladders and ropes, open item flowers
Z/C - Attack
X/V - Jump
Down+Attack - Throw a bomb
You can swap the jump and attack key at the title screen.
Gamepads are supported in the web and Windows version.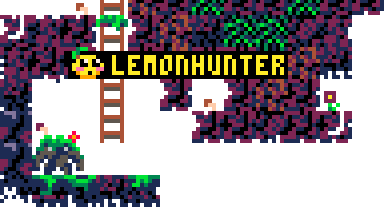 Tips & Tricks
There is always a safe route through the level if you follow the ladders. Don't jump down if you are out of bombs and don't see a way out. Crates can be used as stepping stones.
Collect gold to get more health. Get as many item flowers as you can. Use your bombs wisely.
Windows Version
Lemonhunter was made in PICO-8, but thanks to oldGanon's open-source PICO-8 player it can also be played offline if you don't own PICO-8.
Install instructions
System requirements: a potato running Windows 7 or higher
No install required. Just download the zip file and extract the exe. Lemonhunter supports keyboard and XInput gamepad control. Use x360ce for other gamepads.
Toggle fullscreen mode with Alt+Enter. R resets the game.